WETERING - An eye-catching profession, a creative second branch at a farm, a huge hobby: there is a lot of activity behind various front doors in the region.
In this series space for these active villagers.
This episode: Horeca company An 't Waeter in Wetering.

At An 't Waeter' you can relax and enjoy the water.
Sitting on the terrace of the Schelhaas family at Wetering West 77 you can relax in a friendly atmosphere. Here no hectic and all the time for a chat.
'The season starts in April.
When the regular customers come back, they are called 'we have the hibernation out again'.
Both tourists and locals like to come back here; says Jochem Schelhaas.
Jochem has been a farmer for 33 years. 'At the farm we had fifty hectares of land.
The country had to give way to nature reserves.
We did not consider the farm move an option.
My wife Marrie and I were born here and we wanted to stay here.
The idea came about to do something in the hospitality industry.
We have followed courses and started looking at others.
So we started years ago with a Bed and Breakfast of two rooms, a mini camp with four pitches and a terrace.
The people thought 'a farmer in the catering industry, that will be nothing'.
But if you want, then it works; says Jochem.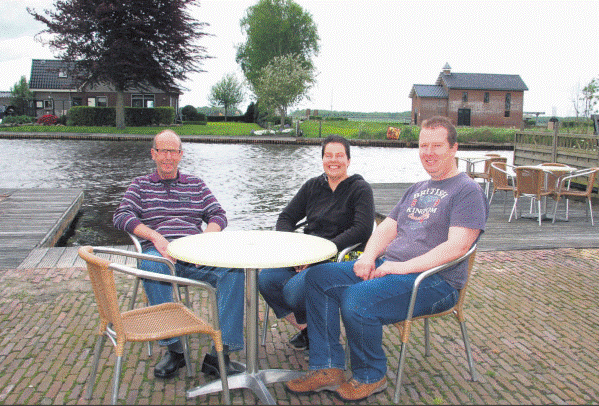 Change
he did have to get used to the change in the beginning.
'I never forget the first customers.
Marrie and I were sitting outside.
Someone came around the corner.
"What is that woman here? I said.
I looked up and had not even thought that these were customers for our terrace: Jochem is still busy with farm life at night.
'In my dreams I am often still among the cows.
'Being a farmer was very nice'.
In 2006, son Albert and his wife Martine sold their farm in Scheewolde to work on the water together with mom and dad.
Currently the Bed and Breakfast consists of ten rooms, the terrace has grown, there was a conservatory, the kitchen is extensive and for a party in the Weerribben you are also at the right place at An 't Waeter.
Only the mini-camping has not changed.
'Expansion is not possible, the terrain is not bigger; explains Albert.
'From the middle of July until the end of August we have had the same guests at the campsite for over ten years.
They like it so much, that they keep coming back; adds Martine.
"That is the best thing there is.
Satisfied customers who come back.
That is the biggest compliment you can get.
It means that you are doing well: Albert and Martine are going to do it together and Jochem and Marrie step out of the partnership,
to travel more often to the sun.
Rina Stam